PRESENTATIONS TO EMPOWER TEENS AND EDUCATE PARENTS. INVEST YOUR TIME. INSPIRE OTHERS. IMPACT YOUR FUTURE.
Tens of thousands of students have attended a DIGITAL EMPOWERMENT PROJECT® presentation and have been empowered to INVEST THEIR TIME, INSPIRE OTHERS AND IMPACT THEIR FUTURE.
Captain Frank encourages students to learn how their "Google You" can impact their future and that they should strive to build a positive online brand. One great (and fun!) way to do that is by registering a personalized domain and creating a positive and fun website.
DIGITAL EMPOWERSITES will provide students a fun and creative activity as well as life long skills that they can use to develop a positive online profile.
I also provide professional website development for organization and businesses so that they may too be empowered to take advantage of the digital world!
WHY DOES MY TEEN NEED AN EMPOWERSITE?
Personal branding is important and often overlooked. Securing a personalized domain and creating a website to share "the best" of a student can pay huge dividends when a student prepares to apply for college or seek employent.
They can learn skills set that they can learn well into adulthood. A DIGITAL EMPOWERSITE is a great tool to empower every student to INVEST THEIR TIME!
DOES A TEEN NEED TO BE A SUPER GEEK?
Captain Frank works with each student (and parent) personally. Students are provided assistance with choosing and registering a personalized domain. They do not have to be a super geek, just eager to learn and committed to the process.
Once the domain is registered, Captain Frank will setup a WordPress powered website on a Linux server. The install includes a licensed copy of the Divi Theme.
Sound complicated? It isn't, because Scott takes care of it all and will personally train and mentor every student.
Register your own personal domain to create your brand and impact your "Google You".

CREATE YOUR OWN GODADDY ACCOUNT.

ACCESS TO DOMAIN DNS RECORDS.

FREE PRIVATE DOMAIN REGISTRATION.

RELIABLE DOMAIN MANAGEMENT.
FREQUENTLY ASKED QUESTIONS
The Digital Empowerment Project is an authorized Affiliate Provider of GoDaddy services. I highly recommend registering your domain at GoDaddy. Be sure to follow the link below to receive special DEP pricing.
GoDaddy is one of the largest registrars in the world. In fact, I have over 25 domains personally registered through GoDaddy.  Their prices are reasonable and the account dashboard is super easy to navigate.
Once you register your domain (be sure to take advantage of the free private registration offer) simply change the DNS entries for your domain to the following:
ns1.supercp.com
ns2.supercp.com
ns3.supercp.com
ns4.supercp.com
Here is the link to GoDaddy with special DEP pricing:
Every EMPOWERSITE is hosted on a fast, stable, secure Linux server managed by CPanel that  monitored and maintained by the Digital Empowerment Project.

1 YEAR OF WEB HOSTING INCLUDED ($60 VALUE).

1GB OF FILE STORAGE FOR WEBSITE.

(2) POP3 EMAIL ADDRESSES INCLUDED.

FREE SSL CERTIFICATE FOR WEBSITE.
FREQUENTLY ASKED QUESTIONS
The Digital Empowerment Project® is an authorized reseller of A2 Hosting (a Michigan based company) Linux web servers. The servers are managed personally by Captain Frank.
All of the websites associated with the DEP are using the same servers that students will have access to for their DIGITAL EMPOWERSITES.
One year of hosting is provided for each EMPOWERSITE. Beyond the first year, a student may keep their hosting account for the nominal fee of $5 per month.
With each EMPOWESITE, students are provided with 1GB of web server space, two POP3 email addresses and a free SSL certificate. Captain Frank will manage the server, security plugins and settings and will perform routine file backups.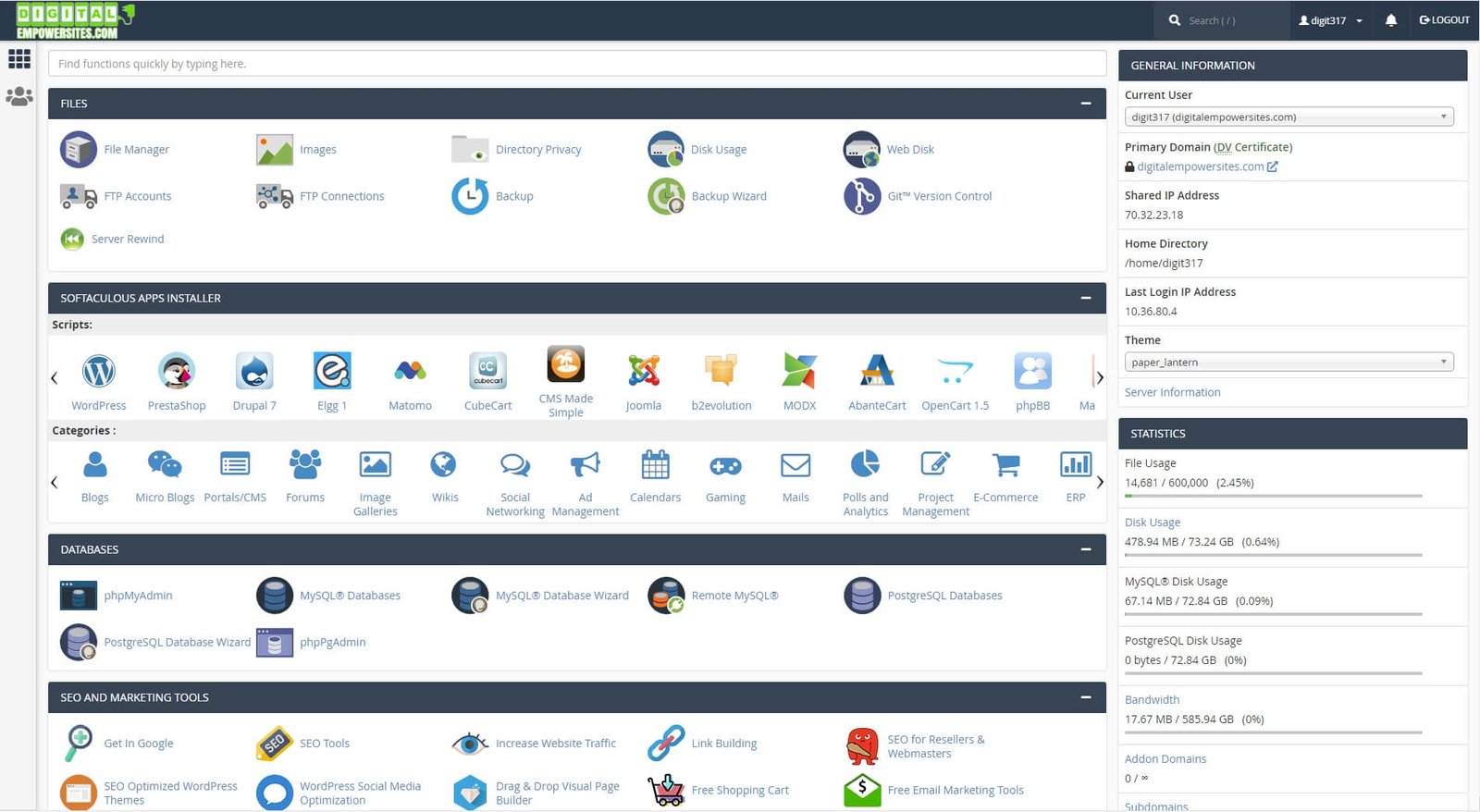 FEATURE RICH WORDPRESS WEBSITE
WordPress is the most widely used free and open source Content Management System in the world! It is easy and fun to use.

WORDPRESS IS PRE-INSTALLED.

AUTOMATIC UPDATES AND BACKUPS.

SECURITY PLUGINS INSTALLED.

EASY IMPORT AND EXPORT OF SITES.
FREQUENTLY ASKED QUESTIONS
WordPress is the most widely used free and open source CMS in the world! It is used on all DEP websites. Captain Frank has also worked with dozens of clients, all of whom are using WordPress as the backbone of their websites.
Captain Frank will remotely help manage your WordPress install by performing security checks and ensuring the backups are completed.
LICENSED VERSION OF DIVI THEME
The Divi Theme is the premiere WordPress theme and it is obvious why! The theme is feature rich and packed with creativity.

FULLY LICENSED COPY OF DIVI THEME.

EDIT USING THE VISUAL BUILDER.

MULTIPLE MODULES AND OPTIONS.

FREQUENTLY ASKED QUESTIONS
The fun truly begins with the amazing Divi Theme. The theme is what allows you to create really cool websites. Your website will be responsive in that it will look great on desktops, tablets and smartphones. Not every WordPress theme can pull that off!
Each EMPOWERSITE is powered by a fully licensed copy of Divi, a value of $79. The licensed copy allows students to always ensure they have all feature and security updates.
No boring videos. No tedius online lessons. Live personal training with Captain Frank! Help is always an email or phone call away.

PERSONALIZED ZOOM TRAINING.

LEARN HOW TO EDIT YOUR OWN WEBSITE.


EMAIL, PHONE OR ZOOM SUPPORT.
FREQUENTLY ASKED QUESTIONS
Captain Frank will mentor and encourage each student (or business owner). They will have fun and learn some cool geeky skill sets.
Once the student's or business EMPOWERSITE is live Captain Frank will continue to support each student by Zoom, a phone call or email support.