PRESENTATIONS TO EMPOWER TEENS AND EDUCATE PARENTS. INVEST YOUR TIME. INSPIRE OTHERS. IMPACT YOUR FUTURE.
I WANT TO HELP EMPOWER TEENS AND EDUCATE PARENTS. I WOULD LOVE TO MEET YOU AND SHARE MY MESSAGE.
A DIGITAL EMPOWERMENT FOR TEENS assembly is engaging, age-appropriate and relevant. Presentations are typically 1-hour in length and are available for both middle-school and high-school aged teens in schools, civic groups or church youth groups. A Digital Empowerment for Tweens (4th and 5th grade) is available upon request.
A DIGITAL EMPOWERMENT FOR PARENTS (and Educators) event is 2-hours in length and provides relevant and detailed information that parents and educators need to hear no matter what their level of internet knowledge is. Educator in-service presentations may be shortened in length to accommodate scheduling.
Each presentation includes detailed visual and audio aids as well as a Q&A session.
DOWNLOAD INFORMATIONAL FLYERS TO USE AND SHARE!
Can a DIGITAL EMPOWERMENT PRESENTATION be held at my location?
Absolutely! Although the Digital Empowerment Project™ frequently sponsors DIGITAL EMPOWERMENT PRESENTATIONS at various locations, the bulk of my scheduling is done when others host presentations. I LOVE to travel!  Touch base with me and we can work out the details.
In order to host a DIGITAL EMPOWERMENT presentation your venue needs to be suitable and comfortable for the anticipated audience. The host is required to provide a screen to project a PowerPoint presentation in such a manner that it is visible to everyone attending the presentation. If the host has a PowerPoint projector and a computer (capable of playing audio files) that is a plus but, I will bring a projector and laptop as a backup. I will also provide my own microphone and speaker system for use during the presentation should it be needed.
Is there a cost to host a DIGITAL EMPOWERMENT PRESENTATION?
The short answer is typically yes – however what is important is that cost should not be the reason that your organization is not able to benefit from the DIGITAL EMPOWERMENT PROJECT™. To that end, I work hard on not letting cost be a factor that would prevent anyone or any organization from hosting a presentation. Please don't hesitate to contact me so that we can discuss an affordable way to bring the DIGITAL EMPOWERMENT PROJECT™ to you!
How long are the DIGITAL EMPOWERMENT PRESENTATIONS?
The length of a specific teen or student presentation varies but are not longer than one hour (the kids get restless!). I prefer to have the opportunity to speak to the students for one hour (if I had my choice!) I am willing to present up to (4) 1-hour student presentations per school day or organization event as well as (1) 2-hour parent presentation in the evening.. School based presentations are based on available class or assembly times. Digital Empowerment for Parent presentations are two-hours in length.
How can I stay updated on the information presented?
I work hard to ensure that MY presentations are packed with the latest, timely and relevant information. i have an active FACEBOOK and TWITTER social media sites where I make available up-to-date information on how the internet is changing (and it is constantly changing). My partner, Josh Ochs, at smartsocial.com is an amazing resource for parents and he will help you stay abreast of the ever changing internet.
PLEASE consider sharing MY Facebook page – let's get social about keeping our youth safe online!
Where can I access immediate resources and printed material about internet safety?
One of my favorite questions! The Digital Empowerment Project™ is a licensed partner with the STOP, THINK and CONNECT campaign as part of the National Cyber Security Alliance. You can access important internet safety resources at the following links:
https://stopthinkconnect.org/ and https://staysafeonline.org/
How can I help the DIGITAL EMPOWERMENT PROJECT?
I am so glad you asked! While my presentations are packed and ready to go, I have a ton of work to do in getting our FACEBOOK and TWITTER social media sites where I want them to be (filled with helpful information). I need your help to have the greatest impact! If you are interested in making a difference, no matter what your skill level is, PLEASE consider joining the team. Contact me we discuss how you can help. THANK YOU!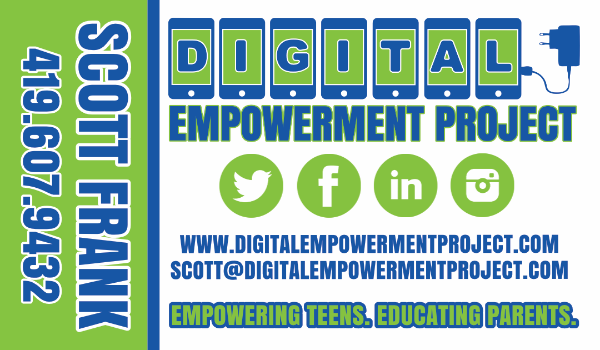 Digital Empowerment Project™ © 2019
Oak Harbor, Ohio