PRESENTATIONS TO EMPOWER TEENS AND EDUCATE PARENTS. INVEST YOUR TIME. INSPIRE OTHERS. IMPACT YOUR FUTURE.
YOUR STUDENTS SHARE THEIR DIGITAL WORLD WITH 4 BILLION ONLINE CONSUMERS!
Teens. Students. They are simply amazing!
They are smart, energetic and extremely tech savvy. They are immersed in their digital world, and THEY NEED US! They need timely and relavant information to help them understand and avoid the risks and dangers of the internet. They need encouragement to be positive and to feel empowered to embrace the opportunities to INVEST THEIR TIME, INSPIRE OTHERS and IMPACT THEIR FUTURE!
I have had the opportunity to speak to over 40,000 students, grades 6th through 12th. I have presented to large school wide assemblies as well as individual classrooms.
I appreciate the fact that you are visiting the DEP webpage and that you are considering bringing the Digital Empowerment Project to your school. Let me tell you more! 
CONSIDER HOSTING A FULL-DAY OF EMPOWERMENT FOR YOUR STUDENTS, STAFF AND PARENTS!
Typically, the very first question that I receive is, "how much does it cost?".  I understand your budget constraints, I really do. I work really hard at not letting cost be the reason a school district does not bring the Digital Empowerment Project to their school. I encourage you to request access to information about the speaking fees at this link.
The majority of school districts book a 'FULL DAY OF EMPOWERMENT!". When booked, I am yours for the day! A FULL DAY OF EMPOWERMENT includes:
DIGITAL EMPOWERMENT FOR STUDENTS: (3) 1-hour student presentations for 6th through 12th grade students. Your school can determine the grade breakdown per session.
(1) EMPOWER HOUR! You are welcome to schedule a 1-hour session to allow me to meet and engage in a round table discussion with a small group of selected students or staff. This is a great opportunity to have an informal question and answer session.
DIGITAL EMPOWERMENT FOR PARENTS: (1) 2-hour Digital Empowerment for Parents presentation (no students). The parent event is an information rich and engaging presentation that leaves parents educated and ready for the next step.
CYBER CIVICS MINI: DIGITAL CITIZENSHIP AND ONLINE SAFETY LESSONS (1-YEAR SUBSCRIPTION). This is the condensed version of a turnkey middle school digital literacy program that meets the urgent need to help students become ethical, knowledgeable, and empowered digital citizens. You get a school-wide (or organization-wide) license to six in-classroom lessons (no tech required!), plus videos, send-home parent activities, and full support.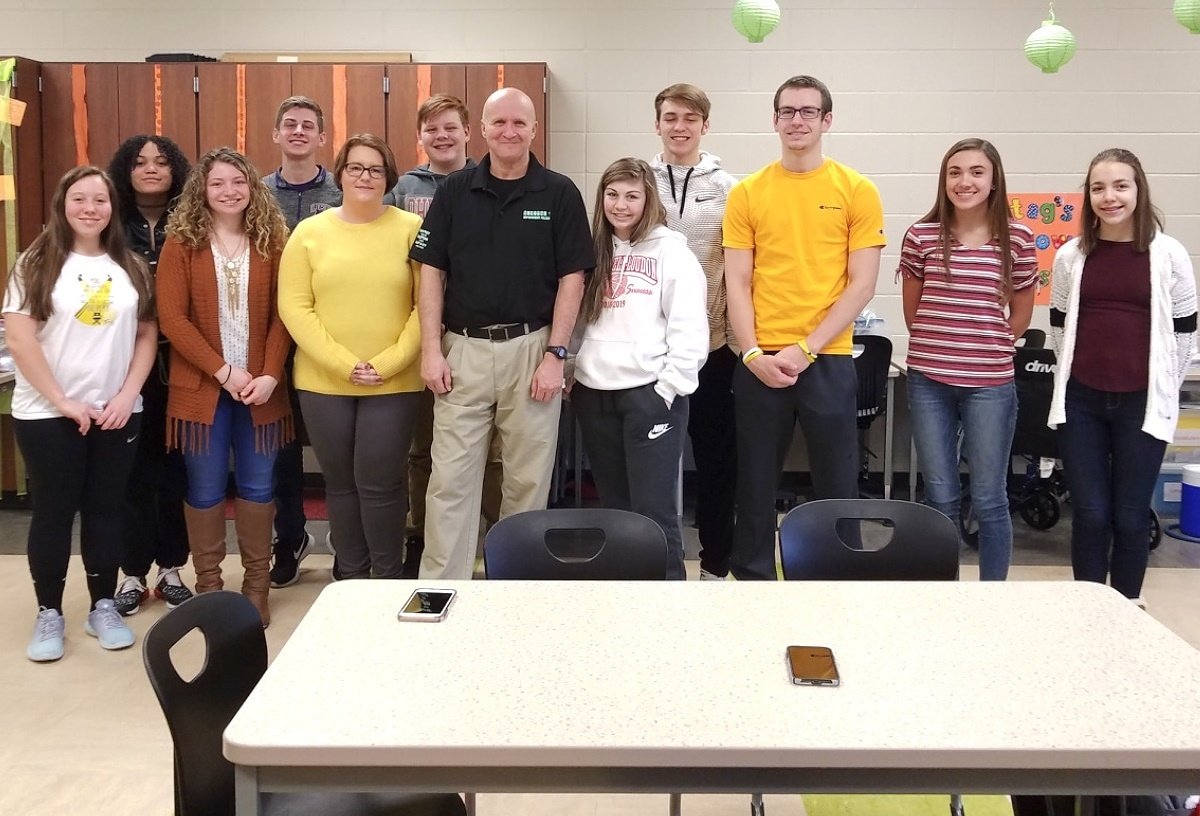 A fun EMPOWER HOUR with student council members at Hopewell-Loudon Schools.
I realize that not every school district is able to host a FULL-DAY OF EMPOWERMENT. Some school districts opt to start with the 2-hour Digital Empowerment for Parents presentation and elect to schedule student presentations at a later time. My mission is to bring the Digital Empowerment Project to your school so we will work out the details to make that happen!
I am always excited about the opportunity to work with school administrators and educators. I often speak to educators, typically during their professional development days. While I prefer a 2-hour Digital Empowerment for Educators session,  I also have available information packed 1-hour (or 90 minute) presentations that have worked well in helping educators stay abreast of the challenges and opportunities that their students face on a daily basis.
I value the comments from parents, educators and other attendees.
A parent, who recently attended a Digital Empowerment for Parents event shared her thoughts – "The safety of our children is every parent's priority and responsibility. I, personally, was shocked at how little I knew when I attended Captain Frank's presentation at a local school. I walked out with my eye's opened and a desire to share this information with other parents."
One school administrator recently commented, "Scott delivers a powerful message about internet and social media dangers facing our students today. Scott shares information and tips on how to keep our students safe, and our teachers and parents educated and informed".
Another educator commented, "An eyewitness account of the dangers inherent to the digital lifestyles being led by our youth today. A powerful and compelling presentation, unlike anything I've experienced before or since".
Want to talk with administrators and educators who have brought the Digital Empowerment Project to their district? Just ask and I will glady share a list of references. They are eager to speak with you!
WORKING OUT THE DETAILS IS SIMPLE AND AFFORDABLE:
Bringing the Digital Empowerment Project to your school is simple! You are welcome to check my online scheduler to see if your preferred date is available. If it is, feel free to put a no-obligation hold on the date until we work out the details. If your date is not listed or if you have specific questions don't hesitate to contact me.
Once we are able to find a date that works best for your school disctrict, it will be pretty easy to work out the details. For the majority of my presentations, I use a Power Point slide deck with audio sound. It is much easier if your school is able to provide the projector, screen and sound system, but if that is something your district is not able to provide, I can bring my own. Depending on the number of students in the presentation, a microphone/speaker is helpful as well. Again, if you are not able to provide either, I can help with that. I can either use your laptop or one of my own, which ever works for your IT department. I do like to arrive about an hour early just to make sure everything is up and running (yes I worry about that!).
When  your school is booked I provide you with the following:
Invoice / W9
Speaker Agreement
Promotional Flyer (print and graphic format)
Listing on the DEP website
Informational Booklet for Parents
Press Release (if requested)
Parent Letter (if requested)
Access to Parents Network and Notes (password protected)
Subscription information to Cyber-Wise Mini curriculum.
I invite you to view the material provided in the Promotional Kit folder designed for school districts. Please know that our work is not done after your FULL-DAY OF EMPOWERMENT is complete. I am ALWAYS available as a resource long after I leave your school. I receive phone calls, on a daily basis, from administrators, educators, counselors and parents. I am there to help in any way I can.
Digital Empowerment Project™ © 2019
Oak Harbor, Ohio