SCOTT FRANK:
FOUNDER / SPEAKER
INTERNET SAFETY EXPERT
I founded the DIGITAL EMPOWERMENT PROJECT® in 2017 and I am blessed to have the opportunity to travel the country sharing my perspective and presenting to teens, educators, counselors, youth pastors and parents. I live in Oak Harbor, Ohio and am the father of four internet savvy kids.
After an amazing 36 year career in law enforcement my mission became to EMPOWER TEENS to make safe and healthy choices online and to EDUCATE PARENTS so they can support and guide their teens. I was a former NW3C Computer Forensic Specialist and Internet Crimes Against Children Investigator. In addition to forensically examining digital media my role as an Investigator was to traverse the internet posing as a child.
The world I found myself in for over ten years was almost beyond descriptive words. I knew that my investigations were important and they were making a difference – one predator at a time. My heart told me I needed, and wanted to, do  more. My passion became the DIGITAL EMPOWERMENT PROJECT®.
KATY HUGHES:
EMPOWERMENT COORDINATOR
I first met Katy at a Digital Empowerment Project® event in Bowling Green, Ohio. She is driven to be the best digital parent that she can be. Truth be told, her passion inspires me! I am excited to have Katy as part of the DEP team.
Katy Hughes, a native of Massachusetts, lives in Bowling Green, Ohio, with her husband and four children ages 12 to 8. Katy understands first hand the challenges parents and children face in today's world where technology drives so much of what kids learn, do, see, and experience. Her pledge to ensure the online safety of her own children led her to attend a DEP presentation given through her child's school district. It was in that moment that Katy knew she wanted to be involved in helping other parents and children across the country, just as she was with her own family. After receiving her Bachelor of Arts degree from Bowdoin College, Katy's career path started in Human Resources before transitioning to Health & Wellness where she found her true passion to help others. Katy is excited to assist Scott Frank and the DEP team in expanding the Digital Empowerment Project® and is eager to provide a resource for parents committed to ensuring their children's online safety while making the digital world a healthy and positive environment for their exploration and development.
CARRIE SANCHEZ:
EDUCATION CONSULTANT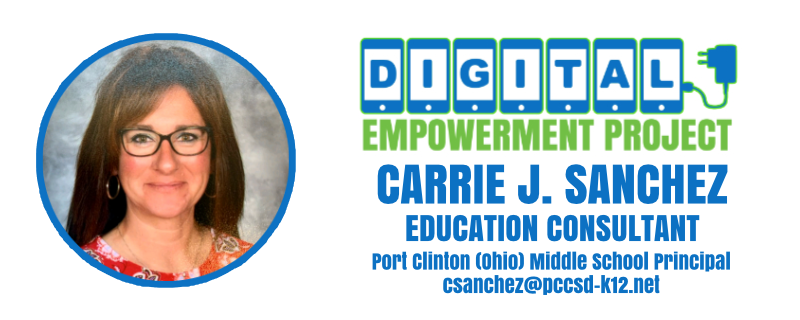 Principal Carrie Sanchez has provided valuable insight and support of the Digital Empowerment Project® since the very beginning. I have visited Port Clinton Middle School more than any other school or district. She is my gold star principal. Her consultation is invaluable.
Carrie is an experienced Principal with a demonstrated history of working in the entertainment industry. She is skilled in Labor Contract Negotiation, Classroom Management, Lesson Planning, Educational Technology, and Instructional Design. Strong education professional with a Master of Education (M.Ed.) focused in Educational Leadership and Administration, General from Bowling Green State University.
MATT RICHARDSON:
DIGITAL EMPOWERMENT PROJECT CANADA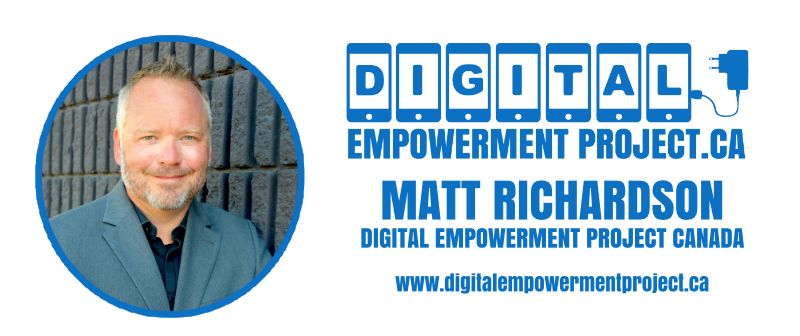 What can I say about my good friend and colleague Matt Richardson? Matt and I first crossed paths in the Facebook world. We quickly became friends and realized we had the same mission and passion. Before you know it – Digital Empowerment Project Canada was created. I am so glad that I get so share ideas and support with Matt.
Matt Richardson is an expert on internet safety, cyber respect, and building a positive online image (among others). His clients include; numerous schools and community agencies, Belleville Children's Safety Village, First Nation's communities, CFB Trenton Military Family Resource Centre, and a large school board where as a consultant he designs e-learning modules and teacher resources.  His background working in politics and the provincial and federal civil service and OSINT experience give him a unique and fulsome perspective which has resulted in programs that cover the full spectrum of online safety and digital well-being". In 2019 Matt founded the "Digital Empowerment Project" (Canada) in partnership with retired Internet Crimes Against Children (ICAC) investigator Scott Frank. Web Link: https://www.digitalempowermentproject.ca