PRESENTATIONS TO EMPOWER TEENS AND EDUCATE PARENTS. INVEST YOUR TIME. INSPIRE OTHERS. IMPACT YOUR FUTURE.
Thank you so much for your support of the Digital Empowerment Project™! I am so proud of the parents and educators that have invested their time to inspire our teens so they may impact their future! If you recently attended a Digital Empowerment for Parents or Educators event and would like access to the Parent Notes, please complete this online request form.
It can be incredibly challenging for a parent to stay abreast of the popular websites and apps that teens are using. Hopefully this list will provide at least some basic guidance. Two great resources to help you stay abreast of the changes in mobile app can be found at Common Sense Media and SmartSocial.
JOSH OCHS AT SMARTSOCIAL.COM IS A GOOD FRIEND AND AN AMAZING RESOURCE. CONSIDER BECOMING A MEMBER.
The DIGITAL EMPOWERMENT PROJECT™ is super excited to partner with nationally recognized digital safety speaker Josh Ochs. Josh does amazing work and is passionate about helping our youth stay safe online and encouraging them to, BE LIGHT, BRIGHT & POLITE!
Josh hosts THE SMART SOCIAL MEMBERSHIP COMMUNITY which is an information packed video, blog and podcast community for both parents, educators and students. His information is timely and up-to-date. If you join the SMART SOCIAL COMMUNITY you will receive additional benefits including access to digital copies of several books that Josh has authored.
SMARTSOCIAL is a valuable resource for any parent, student or educator. I strongly encourage you to consider becoming a member of the SMART SOCIAL COMMUNITY!
Josh provides amazing blog content, audio podcasts and video tutorial every week. An all-access pass to the SMART SOCIAL COMMUNITY is only $99 per year.
INVEST IN SMART SOCIAL TO INSPIRE YOUR TEEN TO IMPACT THEIR FUTURE!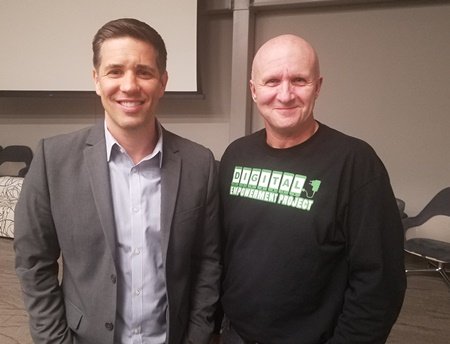 I AM EXCITED TO PARTNER WITH THE BARK PARENTAL CONTROL APP. I HOPE IT HELPS!
The DIGITAL EMPOWERMENT PROJECT™ is proud to partner with BARK, a parental control app powered by secure advanced machine-learning algorithms that proactively detect and alert you to common online dangers and provides recommendations on how to discuss and address them as a family. By monitoring text messages, YouTube, emails, and 24+ different social networks for potential safety concerns like cyberbullying, self-harm, violence, sexual predators, and more, Bark allows parents to have an extra set of eyes and earns helping to monitor their teen's activities online.
As a parent, you are able to access a free one-week trial of this award-winning app so you are able to see if BARK can help you in your strategy to empower your teen!
THE BARKOMATIC RESOURCE GUIDE IS AN INCREDIBLY VALUABLE TOOL FOR PARENTS.
The Barkomatic is the internet's first customizable resource for parental controls. This is an interactive website that allows you to enter all of the technology and devices your child interacts with — from apps and games to phones and tablets — and receive all of the parental control instructions in one convenient location, for free. Until now, parents had to spend hours searching through manuals and hunting online for how to set up parental controls for every device and app. Not anymore. We decided it was time to create a completely free customized guide to keeping kids safe online in one convenient location. No more googling "How to restrict Netflix" or chasing down flimsy instruction manuals in junk drawers. With the Barkomatic, you'll receive an email with a personalized link for only the information you need, whenever you want to access it. To launch Barkomatic, click here.
Digital Empowerment Project™ © 2019
Oak Harbor, Ohio